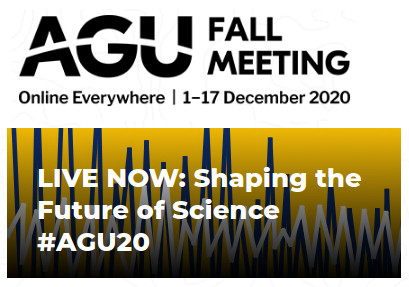 The Fall Meeting of the American Geophysical Union is on online and everywhere in 2020! The AGU Fall Meeting typically attract over 25 000 registrants from all over the world, in a conference center somewhere in San Francisco, New Orleans, or somewhere else in the United States. This year, the Fall Meeting is fully online and TIMEleSS members are happily joining in for presenting their latest results!
Presentations from the TIMEleSS project include
DI005-0013 Microstructures induced by the post-garnet transformation in mid-ocean ridge basalt (MORB)
Matthias Krug, Ilya Kupenko, Estelle Ledoux, Jeffrey Gay, Jean-Philippe Perrillat, Julien Chantel, Sergio Speziale, Anna Pakhomova, Sebastien Merkel and Carmen Sanchez-Valle, with poster display on Wednesday, 9 December 2020
DI029-0018 Olivine to Wadlseyite Transformation in (Mg,Fe)2SiO4 and the 410 km Depth Discontinuity : Experiments and Models
Estelle Ledoux, Jeffrey Gay, Matthias Krug, Julien Chantel, Morvarid Saki, Olivier Castelnau, Damien Jacob, Carmen Sanchez-Valle, Christine Thomas, Sergio Speziale and Sebastien Merkel, with poster on display on

Wednesday, 16 December 2020

MR025-08 Phase Change of Pyrolitic Material: In-situ Transformation and Induced Microstructures at 660 km Depth
Jeffrey Gay, Estelle Ledoux, Matthias Krug, Anna Pakhomova, Ilya Kupenko, Julien Chantel, Carmen Sanchez-Valle and Sebastien Merkel, with the oral session on Wednesday, 16 December 2020
Enjoy your AGU fall meeting!